Unusual Paris Tours
Privileged Paris Catacombs tour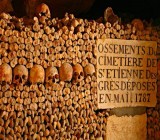 From: 80€
Skip the line tour
- Privileged access to restricted area
- Tickets included
- Professional English speaking guide
- 2h tour
- Small group
IMPORTANT: IF YOU CANNOT CHOOSE THE DATE ON THE CALENDAR, IT MEANS THAT THE TOUR IS AT CAPACITY, OR NOT AVAILABLE.
Description Privileged Paris catacombs tour
Be one on the most privileged visitors and have access to restricted area of the Catacombs of Paris.
In order to preserve this exceptional ancient masterpiece, only visitors accompanied by our professional guide will have access to the entire catacombs' rooms.
This exclusive 2h tour explores the Paris' mysterious underground world. The Catacombs
contain the bones of over 6 million people.
Learn the history behind the Catacombs, why the labyrinth of tunnels became an underground cemetery and see the incredible
collection of bones within. Due to tight constraints on the number of visitors allowed
inside each day, this is truly one of the hardest tickets to secure in town!
Book now to guarantee your spot in one of the most unique attractions in Paris.
Ticket is included.

=> SKIP THE LINE TOUR

TUESDAY TO FRIDAY, TOUR AT 1PM

SATURDAY TO SUNDAY, TOUR AT 10.30AM

Options and prices Paris catacombs tour
80 euros per person, 2h. Tickets included.
50 euros for teenagers.
Availability Paris catacombs tour
Departuree time is around 1pm,during the week, exact time will be indicate on the voucher.
Week ends, tour is at 10.30am
This is a SKIP THE LINE TOUR.
Everyday except monday.
Good to know Paris catacombs tour
There is no restroom and no cloakroom. The Catacombs are 130 steps below ground to enter, and 83 steps to climb up to exit. While in the Catacombs the temperature: 14°C/57°C. This tour is not advised to anyone suffering from cardiac, respiratory weakness or nervous disease, young children, or anyone with tendencies towards claustrophobia as the Catacombs are comprised of a route through underground tunnels and caverns.
Meeting Point Paris catacombs tour
Metro Denfert-Rochereau (line 4)
Other activities in Paris you might enjoy
---