Eiffel Tower tours
Eiffel tower Guided tour, 2h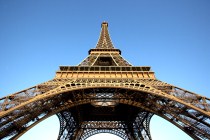 From: 59€
Skip the line, Eiffel tower guided tour
- No line
- 2h guided tour in English
- Top floor included
- Likely to sell out
Skip the line Eiffel Tower Guided tour
The Eiffel Tower is an internationally recognized symbol of Paris, The City of Light.

Built in 1889 for the Exposition Universelle international fair, the magnificent tower rises 324 meters in the Paris skyline.

At any given time, the tower is thronged by visitors sampling its sights or simply enjoying a meal with a spectacular view of the city.

The queues are sometimes quite long but can be avoided with our special 2 hours skip the line Eiffel Tower tour.

This is a guided no-queuing tour provided by a guide fluent in English.

Our guide, who is conversant with architecture, history, and other interesting facts about the tower, will lead you straight to the second level, from where you can access the top level on your own.

Keep in mind the ticket gives you access to all the 3 levels of the tower.

Each of our group tours is limited to 20 people only. We want you to have the best personalized experience ever while visiting the tower.

As an additional bonus, we'll take you to the summit at the end of the tour where you can spend as much time as you want before you descend at your ownpleasure.

Remember to state your preferred hour for the tour at checkout and, more importantly, to carry along your camera so you can capture the city's spectacular views and monuments from the tower.
Details and prices Eiffel tower Guided tour
59 euros per person. children 50e
Availability Eiffel tower guided tour
All Year , Schedule Daily 10.30am, 1.30pm, 5.30pm or 7.30pm during summer.
Duration Eiffel tower guided tour
2h
Good to know Eiffel tower guided tour
It is advised not to wear high heeled shoes!
No discount for children
Other activities in Paris you might enjoy
---