Paris with Children
Behind the scene Paris bakery tour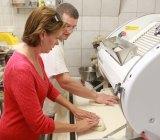 From: 85€
Bake your own baguette! What else ?
- Behind the scene Paris bakery tour - Small group,max 6 - English guide - 2,5h tour - Authentic French breakfast served at your arrival.
Behind the scene Paris bakery tour
Nothing beats savoring foreign delicacies abroad, especially a crisp
French baguette that you have personally made under the tutelage of a real French baker
.
This is exactly what you get in our
unique Paris behind the scene bakery tour
.
Think of it as a culinary journey in the intricate process of making a crisp baguette in the right color and texture. It is also a great opportunity to get all the inside dope about the famous
French croissant.
Believe it or not, we'll take you to a real French bakery where you'll spend a good part of the morning with a French baker in his kitchen learning all the steps involved in preparation of crisp and light baguettes.
This is also a
great family bonding experience
too. In fact the tour is highlyrecommended for families with children aged 5 and above.
To start you off with a good dose of inspiration, and anticipation, we begin the day with a
sumptuous breakfast of croissant and chocolate bread
at the bakery. This should give you a taste of what to expect from the
behind the scene bakey class
.
You'll have a whole two and a half hours session,
from 8.30 A.M to 11 AM
, to discover all the closely guarded secrets of making a croissant. What's more, you'll l
eave with your own baguette
after the session is done.
Don't forget to carry your camera and to dress appropriately for the lesson. A simple T-shirt and light tennis shoes will do.
See happy customers on our facebook fan page,
FACEBOOK/MyGenieinParis
Details and Price Behind the scene Paris bakery tour
85€/pers
40 children under 11
Two persons minimum.
For one person, the price would be 170€ (ie: mention 2 persons while booking).
Availability Behind the scene Paris bakery tour
On request from Tuesday to Friday
Duration Behind the scene Paris bakery tour
2,5 hours, from 8.30am to 11am
Meeting Point Behind the scene Paris bakery tour
In the Marais, the exact location will be mentioned on your voucher.
Good to know about Paris Bakery Class
It is advisable to be dressed appropriately for the occasion: tennis shoes and t-shirt!
The tour starts with an authentic french breakfast!
Other activities in Paris you might enjoy
---