Activities for Group Paris
Historic Walking tour of Paris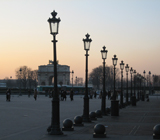 From: 30€
coming soon
- 1h30 walking tour
- Non Private
- Small group
- certified english speaking guide

Historic Walking tour of Paris
Come and discover the cradle of Paris, the Cité Island is where Paris history started with the first inhabitants called Parisi.
Roman came for a couple of centuries before the first French King Clovis set his government on the island.

Today, the island is still the heart of the city and Paris still the capital of France.

During the 1.5 hour walking tour, you will cross the island and the main buildings such as the Conciergerie, oldest royal residence, the low court, constructed as a propaganda building in the days of Napoleon 3rd, Notre Dame Cathedral, jewel of early gothic style and the rose windows dating back to the 13th Century, the romantic meeting place where met Eloïse and Abelard, symbolizing eternal love.
Details and prices Historic Walking tour of Paris
30e per adult,
15e for chidren from 18 to 11 years old.
Free for kids under 11.
Availability Historic Walking tour of Paris
Everyday
Duration Historic Walking tour of Paris
1,5 hour
Lenght: 2kms / 1,25 miles
Good to know
Our guides are licensed professionals and they speak English fluently.
This tour is for a maximun of 20 persons.
The tour is a walking tour, please wear good shoes and bring a bottle of water especially during summer.
Meeting Point
at the exit (outside) of the Metro station Pont Marie.
Other activities in Paris you might enjoy
---