Activities for Group Paris
Create a perfume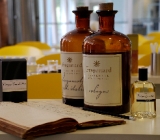 From: 64€
Creating a perfume is pure magic
An unforgettable learning experience in the world of perfume-making awaits you at the perfume museum.
You can discover how a perfumer or "nose" masters the art of fragrance creation while learning about the history of the perfume industry.
Of course, every participant gets to create his own perfume.

The secrets of creating a Perfume.
This will be your chance to create a perfume that actually expresses who you are, a perfume that resembles your personality.

Whether you are a woman or a man, whether your creation is intended to please yourself or is meant as a gift, creating a perfume is pure magic !

With the help of a professional perfume expert you will learn how to create a custom made perfume.
You'll see which raw materials are used and how they are extracted.

By the end of the program, you will be able to compose your own eau de toilette, inspired by roses, jasmines or even a classic eau de
Cologne based on an authentic formula. A fascinating learning experience in the world of perfume.

You will discover your own feelings with regard to different scents, and take a trip through the variety of olfactory emotions.

The perfume expert will study your olfactory profile, and test with you the different fragrance families: the ones that remind you of fruits, flowers, oriental scenes, gourmet dishes etc; in order to explicit the types that really attract you. The next step is choosing together the head, body and tail smells that you find attractive, and how to mix them in the right proportions.

The end result is your very own "eau de parfum" at 15 % alcohol content.

At the end of the course you will name your perfume, put it in a beautiful re-chargeable vaporizer, and of course your will have gained a general understanding of what is behind the commercially available scents.


This is an ideal activity for those who want to do something different as a group.

The activity includes a 30 minutes guided visit of the Perfume Museum.
Details and prices
Minimum 10 persons
64€/pers
Includes 100 ml of Perfume
Duration
2 hours : 1 hour of explanation and 1 hour of creation
---