Louvre Guided Tours
Louvre Private tour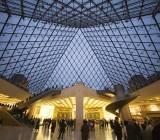 From: 150€
Direct access to the Louvre, no line!
Unquestionably one of the world's great museums, the Louvre is a magnificent setting for some of history's greatest works of art.

Having a private guide leading you through this vast museum and helping you discover the wonders of this great world treasure will make the experience much easier and more rewarding.

One word of advice: you can't see everything in one day.
However, our tour allows you to intimately enjoy some of history's greatest works of art while experiencing the grandeur of this museum and its immense collection.
Options and Prices Louvre Private Tour
1- Louvre Private tour - 1 to 6 pers
Fixed price: from 1 to 6 people = 150 euros

Tickets are not included, only adults over 18 must pay the entrance fee to the guide before the tour starts.

This private tpur is cut the line entrance, no line or wait to enter.
Availabilities
Everyday except on Tuesdays
Good to know
All the guides speak fluently English!
Other activities in Paris you might enjoy
---