Paris Baking Class
Paris Baking Class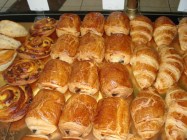 From: 125€
Learn how to bake croissants!
- English speaking baker
- 3h hands on class
- bake and eat your own croissants
- learn the secret of making French " viennoiseries"

You will learn how to prepare from scratch three Breakfast Pastries such as croissants, pain au chocolat, and raisin rolls…
Also during the same class you learn how to make a great focaccia dough.
We will be using seasonal ingredients and fresh products only.
All the preparations can be eaten in-house accompanied with tea or coffee, but you can also choose to take them "to go".
Please note for obvious time constraints some of the dough will be made in advance as it needs to rest overnight, however you will be taken through each step of preparation during the class.
Details and Prices Paris Baking class
Adult = 125€/pers
Child (4-11) = 100€/child
Availability Paris Baking class
Tuesdays and Thursdays at 9am
Fridays 2pm
Duration Paris Baking class
3h (approx)
Good to know Paris Baking class
We will use ingredients and tools that you will be able to find back home.
Not advised for kids under 8.
Other activities in Paris you might enjoy
---