Disneyland Paris
Disneyland Tickets and Transfer.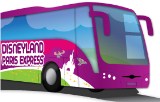 From: 107€
Tickets included!
- Tranfer both ways with a coach to Disneyland
- ticket entrance for the 2 parks
- Pick from four convenient locations in the heart of the city
- Benefit from attractive prices for the entire family.
You're staying in Paris and want to spend a magical day in Disneyland Paris?

Disneyland Paris Express offers an easy way to reach the Disney Parks at the most attractive price.

Hop aboard the Disneyland Paris Express shuttle at the Gare du Nord, Opéra, Madeleine or Châtelet and arrive in the heart of Disney Parks in less than 90 minutes!

20th anniversary brings a world of magic, lights and colours to life. The biggest ever party of Disneyland® will transform celebrations forever, transporting you and all your favourite Characters to a world shimmering in new magic, new lights and new colours.
So whether it's your first time or your 20th you'll never have experienced a birthday like this before.
Prices Disneyland Paris Express Transfers
1- DISNEYLAND EXPRESS TRANSFER with entrance tickets to both parks.
Adult = 107 euros
child (4-11) = 93 euros
Availability Disneyland Express Paris Transfers
Departure from Paris 08:00 am / Arrival at Disneyland® Paris 09:20 am
• GARE DU NORD - 8.30 am -83 rue de Maubeuge
• OPERA - 8 place de l'Opéra : 08:40am
• MADELEINE - 3 boulevard Malesherbes : 08:50 am
• CHATELET - 1 place du Chatelet : 9am

• Departure from Disneyland Paris at 8pm
Opening hours Disneyland Paris
Disneyland Park: 10:00 am - 10:00 pm
Walt Disney Studios: 10:00 am - 07:00 pm
Good to know Disneyland Express Paris Transfers
Please be at the meeting place 15 minutes before the departure time of the Express shuttle.
Arrivals and departures take place at the coach parking bays of Disneyland® Paris (10 minute walk from the entrance to the parks).
Pushchair rental available at the "Strollers and Wheelchair Rental" at the gates of the park.


Others activities you might enjoy
---