Eiffel Tower tours
Eiffel Tower Tickets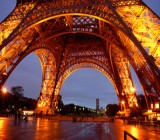 From: 40€
Avoid the endless line at the Eiffel tower....
- Skip the line ticket
- All floor included
- Convenient pick up location next to the Eiffel tower
- Likely to sold out...
Skip the line Eiffel Tower tickets
For a major attraction that attracts millions of visitors every year, the Eiffel Tower is usually thronged by tourists and locals on any given day.

The tower is famous for endless ticket lines, which is why you should be smart enough to buy your tickets online from our portal to avoid the queues.

This will not only help you to avoid unnecessary delays but make your trip less cumbersome too.

From our online portal you can easily and conveniently buy skip the line Eiffel Tower tickets to the top floor for adults, youth, and young children.

Of great importance is to ensure that you clearly indicate your preferred time at the checkout, usually between 9.30 A.M and 9.30 P.M.

So be smart and buy your Eiffel tour tickets online to avoid the endless queues at the tower.

Important: If tickets are not available your credit card cannot be debited but put on hold.

Take note that the tickets are time-stamped and not refundable.

As an extra piece of advice, don't wear high heeled shoes at the tower. You wouldn't want to sprain an ankle and ruin the trip, would you?

Booking your ticket online saves you from rushing for last minute tickets, which are often sold out.
Details and prices Eiffel tower tickets
1-Tickets to the top, 3rd floor.
Adult, Youth and children = 40€/pers

Free for children under 4
Availability Eiffel tower Tickets
Every day, from 9am to 10pm
Every 30 minutes,
Duration Eiffel tower tickets
N/A
Good to know
It is advised not to wear high heeled shoes!
Tickets are time -stamped.
Tickets are not refundable.
Other activities in Paris you might enjoy
---