Paris Wine tasting
Wine and Cheese tasting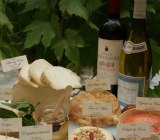 From: 75€
Wine and Cheese in Paris ? what a combination!
- English speaking sommelier.
- A selection of artisanal cheeses, charcuterie and bread baskets.
- Five good French wines (including one Champagne)
Description Wine and cheese tasting Paris
You like wine? You like cheese? We do too.

So we went out to the vineyards and selected for you great French wines. We also ran around Paris to find an outstanding fromager. We did all this with one thing in mind: offering you a fantastic wine and cheese tasting experience.

The tasting starts at noon in a beautiful tasting room. We'll taste five different wines, coming from five different regions of France. From Champagne to Bordeaux, from Sancerre to the Rhone… just sit back and enjoy this tasty Tour de France of wine and cheeses.

Most of the presentation will be focused on wine. Yet, your sommelier will suggest pairings, will explain to you why this cheese might work better with that wine. While you indulge in two of France's best delicacies, you will learn about French wine, how to read a French label, how to pair it with food; you'll be taken through a tour of France's main wine regions…

A day spent walking around Paris can sure create an appetite, so servings of wine and cheese are generous. Plus we add some charcuterie (smoked ham from the South West of France, saucisson from Corsica…) to bring even more joy and color to the table.
Detail and prices Wine and cheese tasting Paris
75€/pers
Including: presentation and tasting
Availability Wine and cheese tasting Paris
Every day
Duration Wine and cheese tasting Paris
1.5 hour

---