Paris Service
Traditional Thai Massage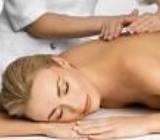 From: 90€
Enjoy a traditional Thaï massage in the comfort of your apartment.
Happiness is not far !
Thai Massage is a combination of gentle rocking, range of motion, acupressure, reflexology, energy work and stretching, a form of passive yoga.
Joints are loosened and opened through manipulation and peripheral stimulation, muscles are stretched, internal organs are toned, vitality is increased and a deep state of relaxation can be achieved. The massage will be held at your hotel or at your apartment.
Price
1. One hour = 90€
2. One hour and a half = 130€
---