Mont Saint Michel
Mont St Michel tour by coach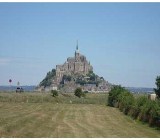 From: 170€
This tour includes
- Transportation in luxury air conditioned coach
- Entrance ticket to the abbey.
- Lunch with drinks included.
- Services of our licensed multilingual guide.

Description of the tour
Normandy motorway to reach the Mont Saint Michel bay.
Stop at 12.00 AM for lunch at Restaurant Relais St Michel : modern, refined decor with an excellent view of the Mont-Saint-Michel monumentThen, ascension to the monument (by the ramparts or by the village) as far as the Abbey is located on the top.
Our guided visit covers the interior of the Abbey.
Free time then for a walk in the village.
departure from Mont St Michel around 4.30PM.
Return to Paris around 9.45 PM.
When and how much
Summer : 165 € / Child : 82.50 €
Everyday except Sunday and special events
Departure : 7.15 AM Winter : 165 € / Child : 82.50 €
Monday, Wednesday, Friday and Saturday except special events
Extra departure : December 30
Departure : 7.15 Am
Information
* A Warm coat is recommended during the winter period, a raincoat during the summer + a good pair of walking / flat shoes are suggested to avoid discomfort.
* Clients with walking difficulties will not be able to reach the Abbey (many steps).
* An excellent range of crêperie (small pancake) restaurants and shops available after the visit to the abbey.
* A good range of souvenir shops to satisfy passengers of any nationality.

Menu
Traditional Omelette of the Mont Saint-Michel
Salmon with rice and vegetables
Cream cheese with berries
1 bottle of cider for 6 persons
1 bottle of mineral water for 6 persons
Coffee or Tea

---