Crazy Horse Tickets
Paris Crazy Horse Show + Transportation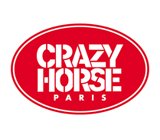 From: 168€
Direct booking
- pick up at your accommodation
- Show at the Cazy Horse
- 2 drinks included
- Drop off at your accomodation

The Crazy Horse will make you discover "the art of the nude", through their famous show "DESIRS", the new show featuring 20 sculptural dancers and two class variety acts.

This is the only place in the world where the most beautiful girls in Europe are glorified by music and light.
Femininity, creativity, audacity …
The most avant-garde cabaret in Paris reveals its charms in an all-new show Désirs. Désirs opened to audiences on 21 September 2009 and was directed by the prestigious French choreographer Philippe Decouflé. The show's artistic direction is signed by renowned photographer Ali Mahdavi.
The classically trained dancers perfectly integrate the sensuous choreography of their performances and their spectacular bodies. Each dancer is bathed in richly colored and textured lighting designs. The colors and images from the stunning lighting effects are so overwhelming that it is hard to determine where skin ends and the colour reflections begin…
The result is a unique show that engages the mind as much as the eye! Zula Zazou, Jade Or, Psykko Tico and Nooka Karamel: the Crazy Horse dancers with their memorable names represent the French elite of beauty and seduction.
Options and Prices at the Crazy horse Show
Price per person, 168 euros

Season: All year round
Daily Departures: Nightly from 9:45 pm; Saturdays from 8:45 pm or 10:45 pm
Duration: Approximately 3 hours
Pick up point: From your accommodation in Paris
Return point: To your accommodation in Paris
Availability the Crazy horse Show
Everyday from sunday to friday show at 8.15pm or 10.45pm
Saturday special, show at 7pm, 9.30pm, 11.45pm
THIS TOUR WILL NOT BE CONDUCTED ON JULY 14TH, DECEMBER 24TH AND 31ST

Location Crazy horse Show
off the Champs-Elysées, the exact address will be mentioned on your voucher.
Duration the Crazy horse Show
1h40 (approx)
Other activities in Paris you might enjoy
---